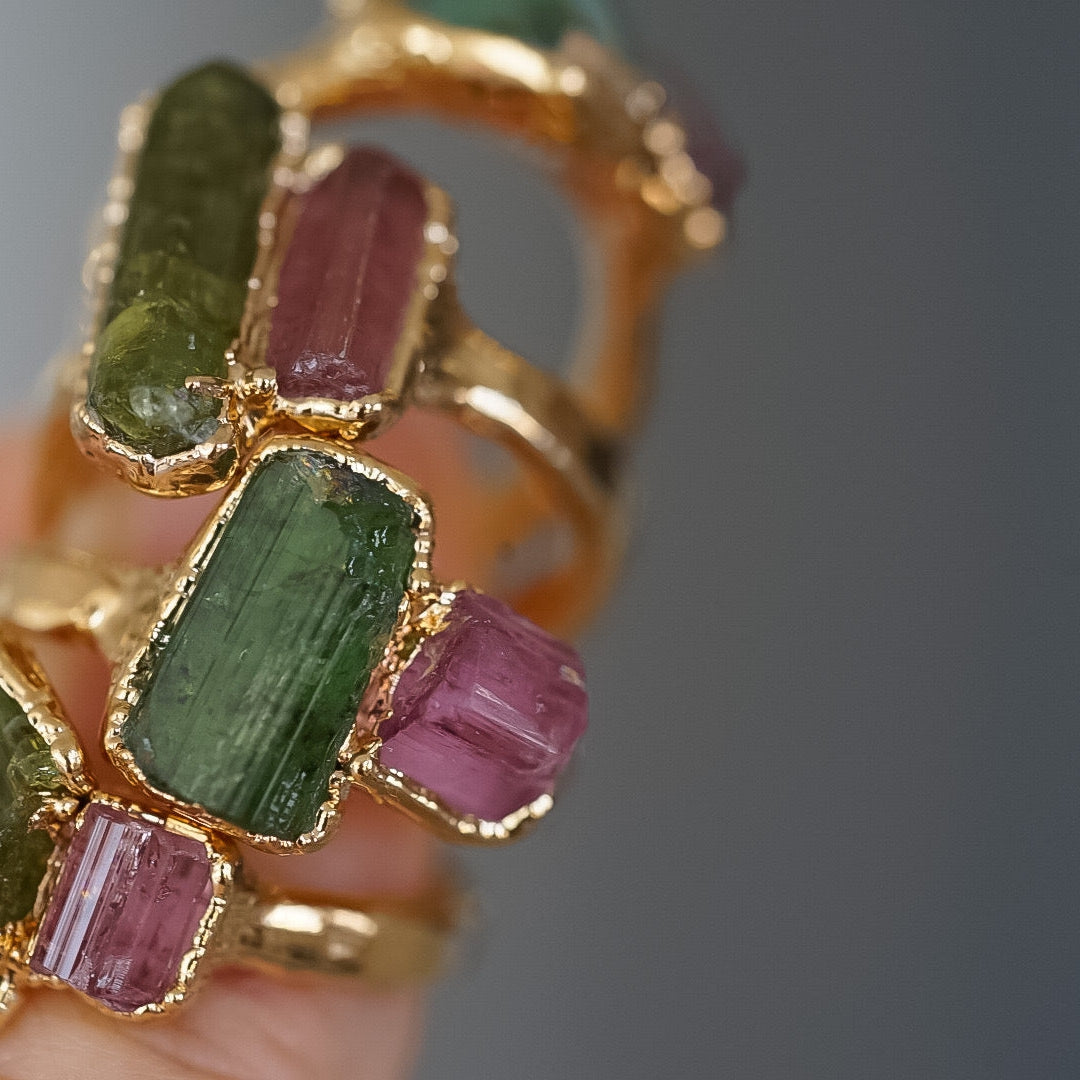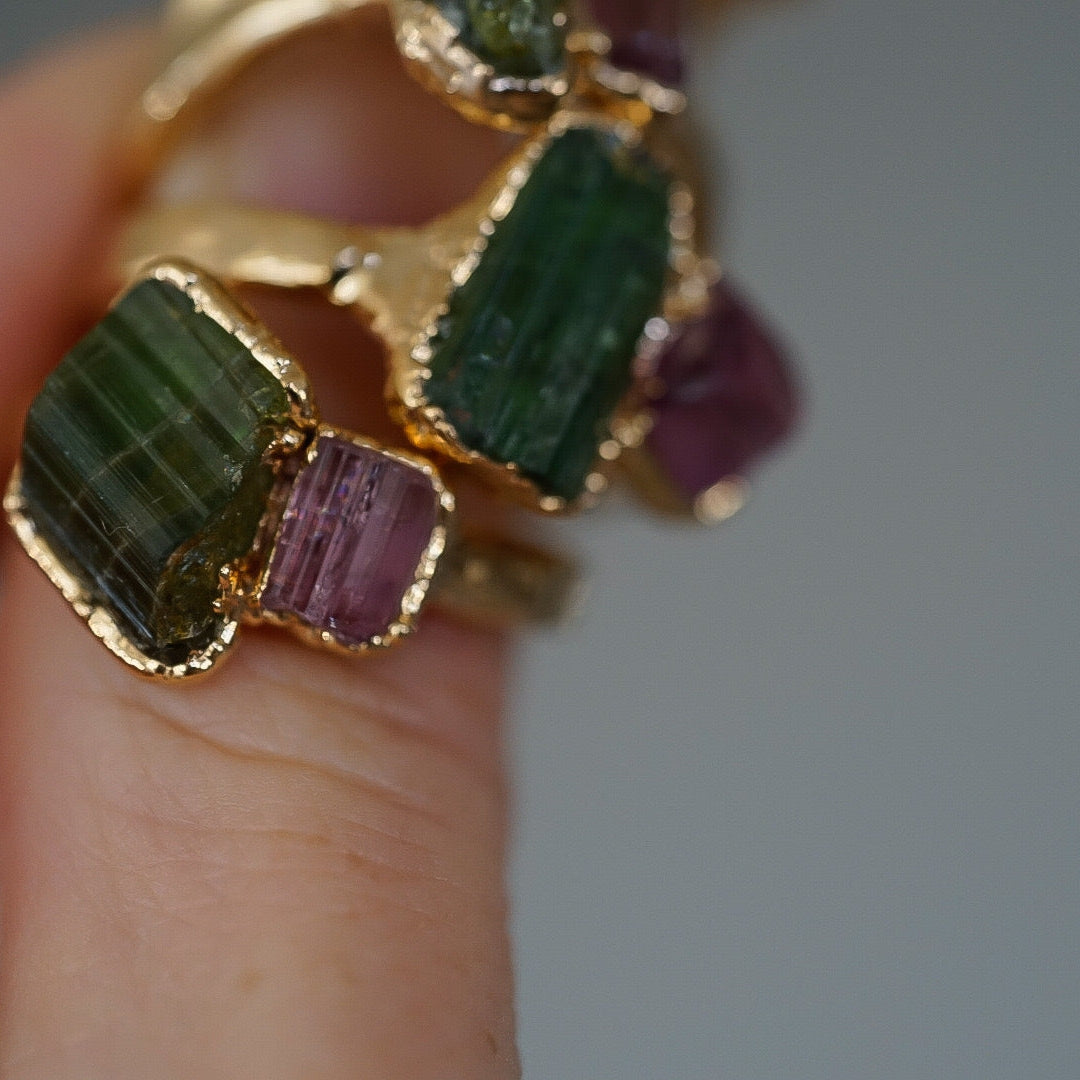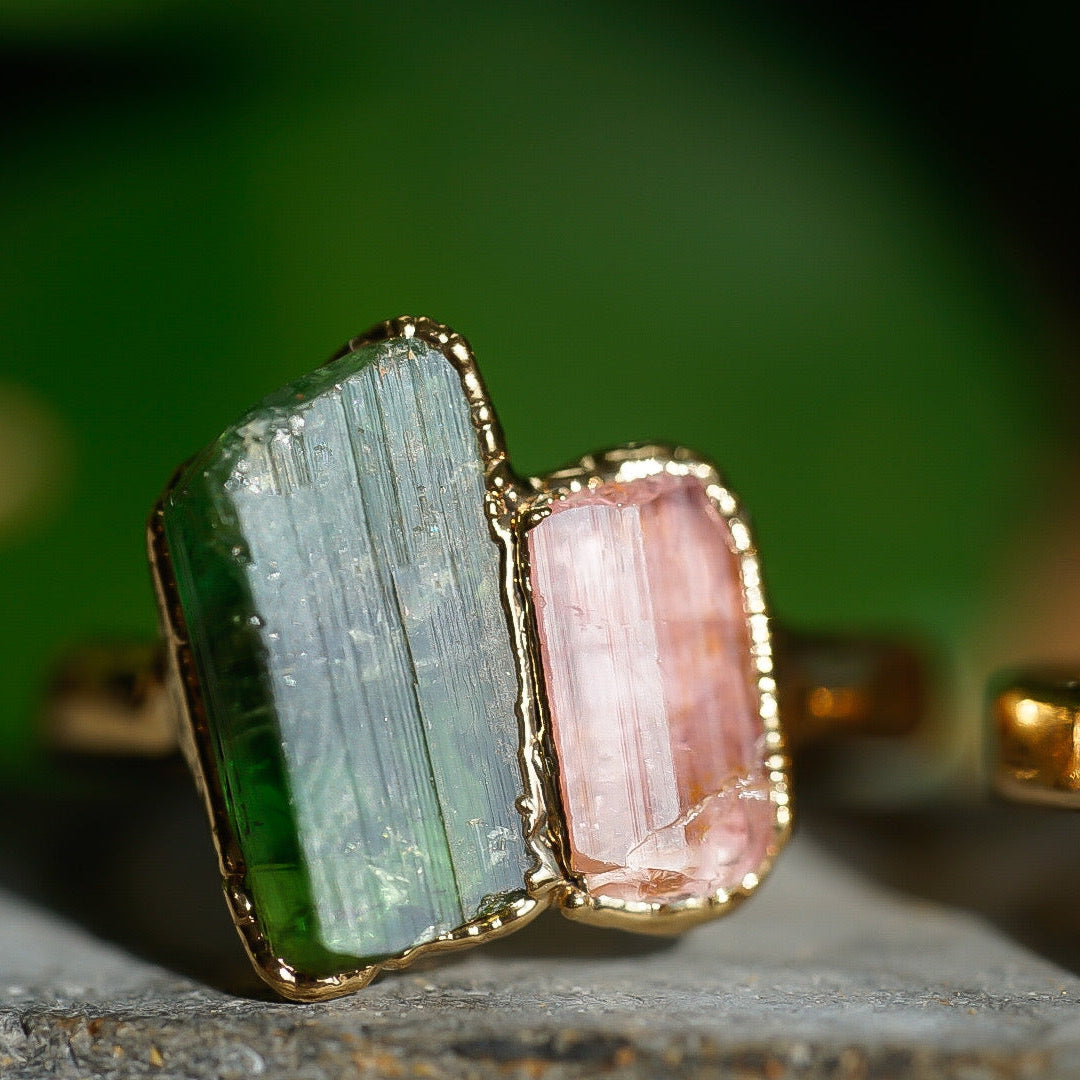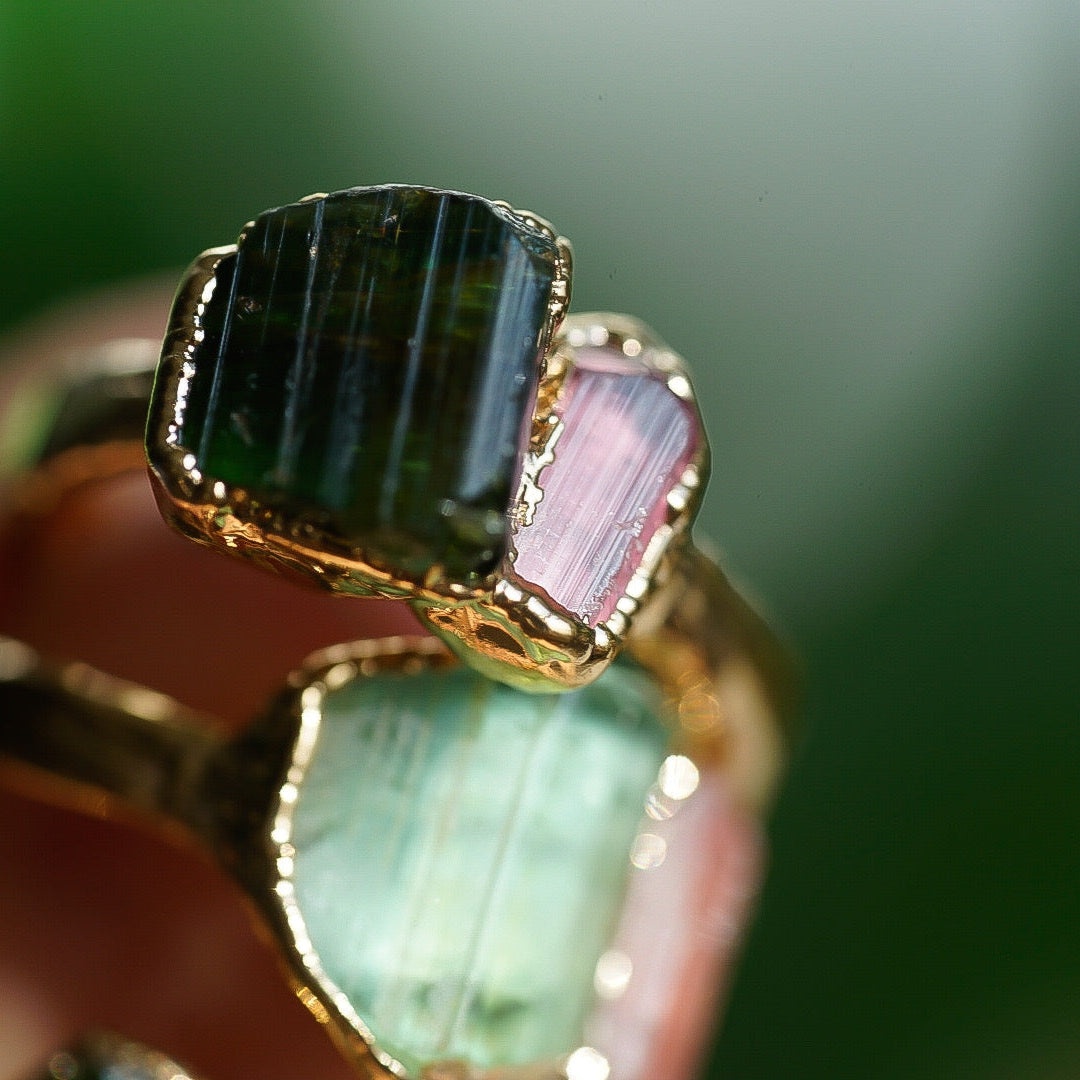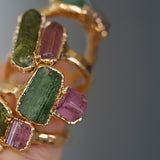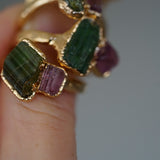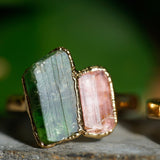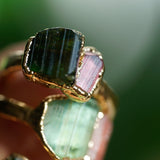 Green & Pink Tourmaline Ring
*CURRENT PRODUCTION TIME: approx. 3- 4 weeks.
Tourmaline is one of our very favorite stones here at Indigo Row. We carefully select each piece that goes into these rings. The Green & Pink Tourmaline ring is hand-crafted with one Green Tourmaline and one Pink Tourmaline stone and surrounded in the gorgeous metal of your choice. You will have people admiring its beauty everywhere you go. It's THAT stunning!
Birthstone: October
Two Tourmaline stones surrounded by the metal of your choice.
Available in Gold, Rose Gold, and Silver.
Stones come in all different shapes and sizes with their own uniqueness so no two will be exactly the same, but we know you'll love the finished product
Band is approx. 3 mm wide.
Solid Silver option is available for an additional fee. We recommend this option for anyone with metal sensitivities. The production time is 6-7 weeks with solid silver.
Pink Tourmaline promotes awareness, positivity, and strength
The Process:
Each stone ring is made using a unique process called Electroforming. We take a simple hammered band and transform it into a one of a kind piece that is sure to catch the eyes and capture the hearts of everyone that sees it. We take special care in hand selecting and placing each stone on the band. This is the most critical step because it determines the final design of the ring. The ring is then placed in a solution for up to 14 hours while the metal builds up and forms all around the stones. We are constantly checking on them to be sure they are forming exactly as they should be. This is so exciting to watch because each one forms in its own unique way. They are then tumbled to perfection and plated with the thickest and highest quality plating possible. This process is similar to the electroforming process.
When you upgrade to the silver core, we do a reallllly thin layer of copper forming and then the piece is then formed in solid silver. We can form them in solid silver but we have found that they form so much better with the thin layer of copper underneath the silver. This is a perfect option for anyone sensitive to copper or greening on your finger because the copper will never come through the silver forming. If you order a silver formed piece, you can choose to leave it silver or have it heavily plated in rose gold or gold. When the plating is complete, they are sealed and then sealed again to make sure they will stay as good as new with everyday wear. See our Care Instructions on how to keep your precious gems in tip top shape. 
All Indigo Row pieces are lead & nickel free. 
Why Indigo:
Here at Indigo Row we always try to ensure that your jewelry is made with the highest quality possible and can be treasured for years to come. Each and every piece is handcrafted by skilled artisans and filled with endless amounts of love & care. We want your pieces to be sentimental and remind you of their purpose every single time you wear them.  Whether it be your birthstone, your child's birthday, the loss of someone special, an angel baby, an anniversary, your wedding day, the benefits that gemstones bring to your life or just your favorite color, we know this piece will be dear to your heart. We hope you love your Indigo Row pieces as much as we have loved creating them for you! 
Note:
* Although we do our best to make sure our sizing is as accurate as possible, due to the inconsistency in sizing tools and the nature of the electroforming process pieces can vary a quarter size. We usually are able to get them the perfect size though.
* We have witnessed the benefits of using crystals and intention in our daily lives, but legally we cannot guarantee them to cure, solve, or help with problems of any kind or use in place of seeking medical advice. 
---
Free shipping on US orders all the time
Green & Pink Tourmaline Ring